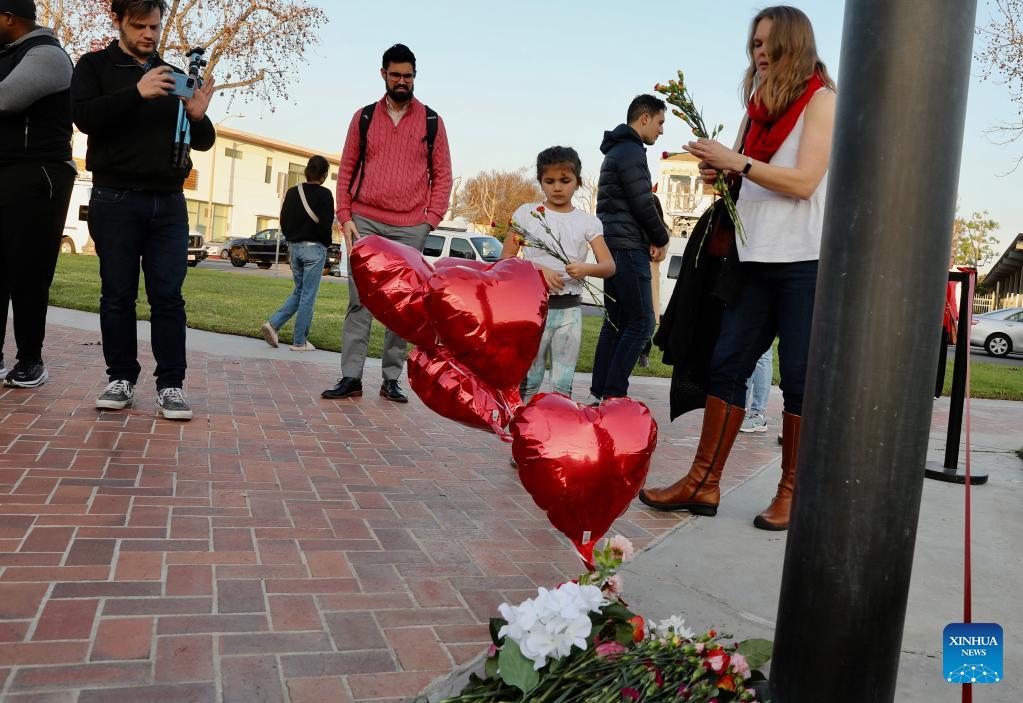 People mourn for victims of a mass shooting in front of the
city hall of Monterey Park, California, the United States, Jan. 22, 2023. [Photo/Xinhua]
The Chinese Consulate General in Los Angeles confirmed Monday that at least one Chinese citizen died in the mass shooting Saturday night in the city of Monterey Park, 16 km east of Los Angeles downtown.

The fatal incident occurred at 10:22 p.m. Saturday local time in Star Ballroom Dance Studio, a popular ballroom dance facility having been operated for about 30 years, when it was hosting an event to celebrate the countdown to the Chinese Lunar New Year.
The mass shooting left 11 dead and 9 wounded as of Monday, according to the authorities. All the victims are over their 50s.
"It is currently confirmed that a Chinese citizen was unfortunately killed in the incident," the consulate's spokesman said in a statement posted on its official website. "We are working with relevant domestic departments and the United States to assist in dealing with the aftermath."
The statement noted that the mass shooting, the most fatal one in the United States since the start of the year, occurred amid Chinese Lunar New Year festivals and in a local Chinese community, "was shocking and deeply regretted."
The consulate also expressed condolences to local Chinese communities, including Monterey Park, a city of 61,000 residents located on the eastern edge of Los Angeles with a majority Asian American population, while reminding local Chinese citizens to take safety awareness in mind.
The Chinese embassy and consulates in the United States flew Chinese flags at half-staff on Monday in honor of the victims of the Saturday tragedy.