Every morning as a new fleet of buses unloads tourists at the Shaolin
temple, Li Yaojin thinks wistfully about the peaceful days two decades ago when he first arrived as a Buddhist novice.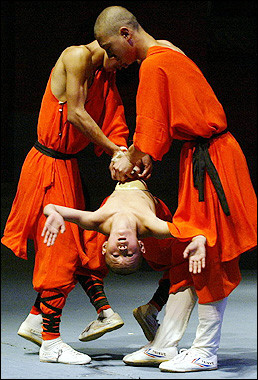 Shaolin
monks perform for tourists at the famous Shaolin
Monestary in central China's Henan province. Shaolin
, famous as the birthplace of China's martial arts, has emerged as a well-oiled money-making machine servicing hordes of tourists attracted to the scene of countless kung fu novels and movies. [AFP]
"Now there are just too many people here," he says, as the main temple courtyard fills with visitors speaking loudly in a variety of languages. "It's hard to find a quiet place to meditate."
Shaolin
, famous as the birthplace of China's martial arts, has emerged as a well-oiled money-making machine servicing hordes of tourists attracted to the scene of countless kung fu novels and movies.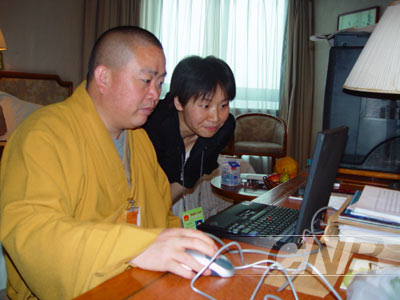 Shi Yongxin (L), head abbot of Shaolin
 temple is surfing the Internet. [newsphoto]
They come to this remote part of central Henan province in hopes of seeing authentic monks miraculously surviving in some sort of time capsule.
But what they find instead is the exploitation of the Shaolin
myth on an industrial scale.
Eighty-three martial arts schools with a total enrollment of 40,000 line the road from the large town of Dengfeng to the sprawling temple complex itself, where souvenir sellers and minibus drivers stand ready to welcome the tourists.
"We're very worried about the impact of all the tourists, but there's nothing we can do," said Li Songjiang, a staff member of the monastery.
"Speaking on behalf of Shaolin
, I'd say we don't even welcome one single tourist here."
The massive influx of tourists has turned the monastery's 180 monks into bewildered and unhappy strangers in their own homes, or worse, exotically dressed workers in the tourism trade.
When Sun Zhongfei's parents sent him to the monastery at the age of 10, they thought he would be trained as a monk, but three years later he spends most of his day selling souvenirs.
"My mom and dad said, 'Buddhism has brought so much good to people', and wanted me to spend my life in the service of religion," he says, taking time off amid efforts to hawk 60-yuan (seven-dollar) Shaolin
-themed T-shirts.
While the temple has sold its soul to tourism, it has got very little in return, according to the staff.
"Entrance tickets are 40 yuan (five dollars), but the local government takes 30 yuan for itself," said Li, the staff member.
Many of the temple buildings greeting the tourists are of recent date -- some constructed as late as 2004 -- and as artificial as much of the Shaolin
martial arts antics known from Hong Kong cinema.
Constant rebuilding has been a necessity, as the monastery has been battered through its 15 centuries of meticulously recorded history.
It was destroyed, and all the monks massacred, during the transition from one imperial dynasty to another in the mid-17th century, not to be re-erected until the early 1800s.
In 1928, it was embroiled in one of the civil wars that devastated China after the collapse of the empire, and several priceless buildings, as well as the temple library, went up in flames.
But all previous challenges may pale in comparison with the present task of preserving an atmosphere of quiet contemplation in the face of unbridled capitalism.
In its current incarnation, Shaolin
is part tourist hell, part training ground for new generations of bodyguards and martial arts performers.
Thousands of young Chinese men, and a fair number of women, go to Shaolin
to learn kung fu and other martial arts from the source.
It is estimated that about 10,000 foreigners, too, have taken classes since the temple area opened to tourism in 1988.
In conformity with the mercantilist spirit that has not settled over Shaolin
, most of the students hope the skills can assist them in their future careers.
"Kung fu helps your body become stronger and lifts your spirit," said Kong Lingfang, a 21-year-old student. "You can use it in many kinds of jobs, even in a bank, but I personally want to become a bodyguard."
The surroundings are Spartan, with Kong in charge of 18 younger students squeezed into a tiny dormitory.
"It's my responsibility that they study well, practice well, eat well," he said. "I'm not allowed to hit the boys, but I can punish them by ordering them to do push-ups."
Push-ups do not deter 15-year-old Tao Saowei as he tries to harness the traditions of Shaolin
to his dreams of a lucrative career.
"You can become a coach or go abroad to perform," he said as he was putting on gloves for an upcoming lesson in Chinese-style boxing.
Tao's father paid 5,000 yuan for one year's tuition at the school, a huge amount for most Chinese.
None of the students seems to think it is excessive, even if it entails submitting themselves to a severe regimen of training and exertion from dawn till dusk, and frequently even later than that.
But if they think they are learning authentic Shaolin
kung fu, they may be fooling themselves -- not one of the schools is run by the monastery itself.